Testimonials
Note: All testimonials or endorsements presented on this website were submitted voluntarily by actual customers without solicitation, compensation or incentive of any kind. Permission to use any testimonial or endorsement used on this website was obtained directly from each individual.
---
Dude, this Killer Stand-up Comedy System course is the real deal. You've put into words what every comic that's out there needs to read, and I mean now.
I've been performing standup for about 8 years and after going through the materials once, it has revolutionized the way I approach writing.
Seriously, the pressures of writing and developing new stuff is wearing off on a daily basis.
I could really go on, but I just wanted to commend you on this work. Because it works. My goal is an hour of new stuff in a year. Bring it on.
Tim Hawkins
Professional Comedian
TimHawkins.net
---
Hey Steve!
I am loving your course!
I have been performing one woman comedy shows for the last 15 years and stand-up for 6 years. I have also read all the typical stand up books and have taught stand-up comedy. My PAR score on average is 30 with 18 seconds of laughter per minute.
Your approach is very unique and speaks to my learning style. It is great to read your thoughts and insight and to put it into practice with my existing material.
I have already started telling my fellow comedians how great your program is! Thanks!
Rachelle Elie
Professional Comedian
CrowningMonkey.com
---

Hey Steve!
I am one of the Native American comedians featured in the American Indian Comedy Slam on the Showtime Network.
I wanted to let you know that I started with the Killer Stand-up Comedy System 5 1/2 years ago. I have enjoyed an amazing and lucrative stand-up comedy career in record time as a direct result of your course.
I just cannot thank you enough.
J. R. Redwater
Professional Comedian
https://www.facebook.com/jrredwater
---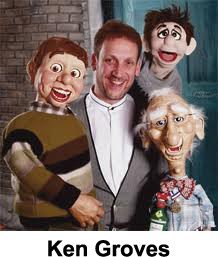 Steve,
I have every comedy how-to book written, right here on the shelf. But I have to tell ya, the best thing I've come across in about 20 years is Killer Stand-Up Comedy.
Now, when any ventriloquist asks me how to develop stand-up comedy material, I refer them directly to your website.
Thanks for producing what I consider the best information in the business of developing comedy material.
Ken Groves
Professional Comedy Ventriloquist
KenGroves.com
---
"If I had Steve's course when I first started out, I would have saved myself years of frustration and embarrassment.  Now, when young comedians ask me for advice, I simply direct them to The Killer Stand-Up website.
I make a great living as a full-time stand-up comedian and as a magician, but I know I could have started enjoying this success earlier in life if I had Steve's help.  You don't need any other book and you don't need to take a class.
Don't try to invent a hook, or create a character.  Instead, learn how to take the personality you already have and create an act naturally.  That's what Steve teaches, and it works!"
Zach Waldman
Professional Comedian & Magician
ZachWaldman.com
---
I have just completed going through the entire course – all the modules, written material and bonuses. I have to say this is the best course I have ever purchased (and I have purchased a lot of online stuff over the years).
With your system I am able to generate tons and tons of comedy material – so much that my ability to memorize for the stage is the biggest hurdle, not the writing or generation of ideas.
I have read some of the more popular books on comedy writing and stand-up. Although I have learned from those books, nothing has even come close to what your course provides. Sometimes the books actually get me a little down, since they make it seem really tough to actually put together stuff that works on stage.
Your course did the opposite for me. It really fires me up with all the possibilities, both for comedy generation and for application and entrepreneurial pursuits related to the comedy profession!
Thanks Steve!
Jesse Stoddard
http://www.jessestoddard.com
---

Steve,
Your course is right on the money!
I've always considered myself a good writer, but your course takes writing and performing to the level of connecting to an audience.
That's a big deal. It's the difference between doing a good set and "owning the room". I can't thank you enough!
Sid Davis
Professional Comedian
https://www.facebook.com/siddaviscomedy/
---

Hi Steve,
I have to tell you that your course is just what I needed. The insight given on building an EPK allowed me to construct my own professional website for free in just a couple of days.
The Corporate Comedy Secrets program has given me a straight forward practical guide to marketing and promotion for the corporate comedy markets.
Your information has put me in better control of the business side of my comedy.
JC Morgan
Professional Comedian
Funniest Comic In Los Angeles – Winner 2011
---

Thanks Steve,
Your way of creating material, which to me is the only natural way to tap into my own sense of humor is fantastic.
Your methods have fed and excited me, especially since I took on writing a whole new hour of material!!
And your course came along at just the right time!! Kudos Kudos Kudos to you!!!! Thanks again!
Cliff Yates
Professional Comedian
LA's Comedy Cop
CliffYates.com
---

This is by far the best comedy writing system / platform / seminar that I have seen to date. If you are a new kid on the block…
Order this system before you work another day. I have been writing & performing for over ten years now, and I can say for sure that this book has helped me become a better writer.
I say that from a guy who has 7 CDs and 3 books to his credit. Laugh at my ramblings if you want, I am headed to the bank to make another deposit and I have the best October of my life coming up.
Mike Williams
Professional Comedian
MikeWilliamsComedy.com
---

Steve,
I wanted to let you know how it is all going for me. I purchased your system about 6 months ago. I had done a stand-up comedy workshop and had been dared to enter a local comedy search competition.
Having continued to refine my material and develop more using your techniques, I am now hitting a new height with PAR's between 25 and 32 (15-19 seconds laughter per minute)!!
I have much to thank you for, Steve.
Mark Gladman
Professional Comedian
MarkGladman.com
---
Steve,

My name is Alba Sanchez. I have been a performer for many years and I have written comedy in Spanish, English and Spanglish for theater, and TV.
I have been The Face of HBO Latino for the last 2 1/2 years. I have not tackled stand-up because I just couldn't write the way the comedy books were saying is the only way to do it.
I am considered a story teller, which is suppose to be a no no. Bottom line:  I love your approach to comedy writing! It seems very organic. And I can see myself headlining in 18 months or less thanks to your course. You really cut out all the BS and myth that goes on in the comedy world.
Thank You so much for being so generous and creating this course.
Alba Sanchez
Bronx, New York
---

Hey Steve,
In January of this year I decided to get serious about my comedy career.  I have done a ton of research and bought a ton of books on how to write and perform comedy.
I was disappointed to learn how hard it was, trying to write jokes out of thin air.  No wonder it takes 7 – 10 years to get good using conventional comedy wisdom. In despair, I continued my research and found your system.
I had nothing to lose so I invested in your system and Oh My God…
Within a day I had written 6 pages of material. I learned the value of your system and working with bulk material. Thank you Steve for offering such a great value.
I have been trying some of my material on unsuspecting co-workers, WOW what a hit. I have always been able to make everyone laugh, but now I am making them laugh harder. I am far more confident now with my comedy material then I was even just two weeks ago.
Once again, I have to thank you for your wonderful program!
Raymond Hoffman
---

I would just like to say a big thank you for creating the Killer Stand-up System.
I was always funnier off stage. I could never seem to capture that. So I've been reluctant to go back to stand-up as I couldn't produce the material. Now I'm 28 and I didn't want to take five years out of my life and not get anywhere.
Your advice makes a lot of sense. I've only recently started using them and already I'm beginning to realise my problem will genuinely be getting enough stage time.
I know you don't know me, but I wanted to pass on my gratitude. Thanks a lot!
Jason Peck
Prohumorist.com
---

Steve! I've got to definitely thank you for helping make a childhood dream of mine come true. I just gotta share this with you.
Around six years ago I decided to finally give my dream a run for the money. I had always wanted to do comedy and always made people laugh at parties and get-togethers.
Being in my forties I thought I'd better get started on a comedy career before the comedy boom died or I did.
My age was actually not my biggest problem though. I am an American but I am living in Germany, a country noted for it's different type of humor.
Not only that, but their comedy culture is so different from ours too. They don't have comedy clubs in every city like in the states and the kind of comedy they did was mainly cabaret.
Along with buying every "How To" book on comedy I could get my hands on, I decided to try out for a "Comedy School" they had here. I thought after doing my first few Open Mic's I was ready, only to be told that I should return to my day job because I wasn't funny enough. Talk about bombing! I was just about to give up.
Then I ran across an ad for your Killer Stand-up Comedy System. I decided to just download the freebies. I couldn't believe what I was reading!
It was all so straight forward and made so much sense. I immediately started to rework my material.
Naturally everyone told me I would fail, no-one knew my name, I had never been on TV, who would come to see me? So I bought the complete Killer Stand-up Comedy System and started consulting directly with Steve.
One of the best ideas he gave me was to start my own Comedy Show if I wanted more stage time. So that's exactly what I did. I created "Hollywood's Comedy Nights".
After several shows in German, I decided to try an all English show, which once again hit on nothing but negativity. To make a long story short, the show was sold out and was visited by several prominent guests.
The promoters of the "Cologne Comedy Festival" (Europe's largest mainland Festival with over 200 comedians in 120 different venues) invited my show to participate in the festival that year. We did and again it was a sell out. It was then that I decided to focus on the English shows.
This year will be our fifth consecutive year in the festival and we are expanding our show into several other cities. We have had hundreds of different comedians in our show now, from the UK, Canada, USA, Australia and New Zealand. And yes, we even have Germans performing in our shows now, in English.
I've had many of my German colleagues comment on the fact that my act in English is better, but bringing down the house at a recent event (in German) with an audience of over 1200 people made them eat their words.
Now, I just explain to them about the Killer Stand-up Comedy System and tell them to get it.
So Steve, thanks again for making dreams come true!
Johnny Hollywood
Professional Comedian
---
Steve,
I just wanted to say I back you up 1000% in the things you talk about. It's helped an unbelievable amount. With my extreme case of self diagnosed ADD, the STRUCTURE I needed (that your killer stand up material provides), is exactly what is making me blaze thru comedy on fire. I knew a few years ago after starting performing, I had to do something…
I am ready to hit the scene here in Minneapolis full time, at least 5 nights a week. Anyways, I finally started up again, and this time I was on the right foot as I had planned. I won a local competition that's held twice a month, doing "5 minutes of fame", and I know so much of it is thanks to your system.
Thanks again–I've purchased everything you've put out, and the materials are fantastic.
Tim Dilly
Minnesota
Hi Steve,
Well, I got up on stage last night for the first time.  Your system is great! If I had not read your system, there is no way I would have actually done that.
I had about 5-6 minutes of material, got some laughs with my first bit and during my second half I forgot about half of what I wanted to say.  But I was the only person who knew it.  It means what I did not say can probably be removed anyhow. I was at a club in Huntington Beach CA, Martini Blues.
Too bad the others are not using your material.  I will give you up dates as I progress.
I will recommend your system when the other comics ask why my set worked the way
it did.
Ed Morin
Orange, California
Thanks Steve,
Your system is freakin' awesome! I already have so much new material that I won't get it all on stage for quite a while, not to mention that I've rewritten most of my existing material very successfully with your techniques. I'm recommending your material to all the folks in my little troupe of comics…
Thanks again for your help,

Chris Pierce
Shreveport, LA
Hey Steve,
I just wanted to let you know how valuable your system has been to me. I'm in a weekly writing group with four other guys and we all use this system to create material.
It's been three weeks and I've already developed almost five minutes of 'A' material. And the great thing is, is that I haven't performed any more than I usually do. I'm writing smarter, not harder (boy, that sounds cheesy).
Thanks Steve,

Rich Praytor
California
Thanks so much for sharing your insights with us…I am so EXCITED about my stand-up career!!!  I'm working on getting a tape made for prospective clients, live in an area where there are no clubs to perform open mic…
No worries, I know I'm going to do what I love, and that's what it's really about…
Thanks again,
Terri Lynn, Comedy Queen
Redmond, OR
Hey Steve,
I love your system — I spent 10 years in the Navy myself. One of the first women in aircraft maintenance. Man, do I have material from that. I was the only women in a shop of 80 men.
Thanks for the wonderful material and all the help you are giving me through your material. I stayed up till 5 AM this morning reading your information.
Best to you,
Susan Dones
Oregon
"I've been a comedian full time since 1985 and a teacher of comedy since 1993. I saw Steve's material and it was so good it made me want to quit and take his course so I could learn the RIGHT way.
I made many stupid mistakes on my own without guidance and Killer Stand-Up is a FANTASTIC advantage to comedians on all levels. A beginner will learn from it and I did too. Plus,
Steve is a sincere teacher of something he loves. I consider him not only a great performer and teacher, he's become a respected friend. Don't buy his materials, invest in his passion and watch the positive results come flying back to you. I've gotten them myself. DO IT. You won't be sorry."
Dobie Maxwell "Mr. Lucky"
Nationwide Headlining Comedian
"I would like to personally thank you for putting out great stuff. It has completely changed my approach to stand-up. Keep up the good work!"
Joe Braza
Garden Grove, CA
"I gotta tell ya… I'm doing a ton of writing and my stuff is getting consistent laughs."
Donna Ayers
Arvada, CO
"In three performances, I am so far ahead… I owe a lot of the laughs, the succinctness, and the performance to what you wrote in your system talked me through."
Terry O'Brien
Erie, PA
"Steve – I bought the "Comedy Bible" & Greg Dean's book, and I gotta tell you that your system is by far the most real, and most engaging one yet.
Either I think just like you, or you have it right. Your writing is appealing and not some droll of formulas and what not to do. Excellent."
Bill Waitz
Oaklyn, NJ
Steve Roye…What you've written has helped me a lot…even for somebody like myself who has been doing comedy since 1982 for God's sake…
John Marks
Professional Comedian
It's better than all the books I have on the subject combined! Starting comics would be foolish to waste their time on anything else! You get right to the crutch of things and explain it in a way that makes it easy to understand and apply.
Mike Peterson
Houston, TX
Of all the books I've read and all the courses I've been through, and some bizarre stand-up comedy courses, this one flat out, from a comedian's point of view, is without a question the best I've ever taken.
Tony Calabrese
San Diego, CA
It's intuitive. It seems right. Other methods I've read are more academic and hard to fit into… It's really taken the fear away. I feel much more confident in my own abilities to come up with material."
Marcus Amann
Canberra, Australia
Totally stellar! I wish I had been privy to this when I first started in the comedy biz.
Mike Peak
San Diego, CA
This stuff has completely change the way that I approach stand-up comedy. It's just so far ahead of anything else out there. What I wouldn't give to have had this when I first started.
Paul Stoecklein
Encinitas, CA
I'm on the drug, this natural drug. I feel fortunate to have come across your stuff.
Tom Eschelman
Columbus, OH
I was able to use the techniques in this system in minutes – it has already paid for itself!
Dan Liebert
New York
Your information is like cocaine!
Madelyn Fisch
London, England
Great job on compiling an excellent, comprehensive, practical tool and catalyst for comedic growth and development.
Howard Richmond
Encinitas, CA
You dive right into exactly the types of issues that I was trying to figure out for myself. It's all laid out in the course. What more can you ask for.
George Jackson
Shaker Heights, OH
Your system has helped me to focus on what to do in comedy… Thanks for a great system, Steve.
Roy Clark
Marietta, GA