Success Stories

For those that think you have to be a "dirty" comedian to be a funny comedian…
Let me introduce you to comedian John Branyan, yet another Killer Stand-up Comedy System comedian.
You may not have ever heard of John, but make no mistake…
He can stand among the best out there because I have the PAR Scores to prove it.
Below is a 73 second YouTube video clip of comedian John Branyan in action.
Whether you personally care for his act or not, pay close attention to the numbers at the end of the video: (read more…)
Note: This story has been updated and contains an audio interview because Killer Stand-up comedian Gid Pool been featured in a "Your Life Calling With Jane Pauley" segment produced by AARP (video of the segment is provided below)!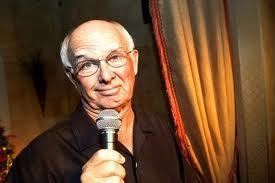 If you are at an age where you have ever wondered if you were too old to become a stand-up comedian, please allow me to introduce you to comedian Gid Pool.
Gid was 61 years old when he started his stand-up comedy career after taking a stand-up comedy class in March 2007.
Later that summer, Gid got his hands on the Killer Stand-up Comedy System. (read more…)

If you think that you need a hundred or two hundred performances before you can deliver a headliner level performance, then…
You might want to check out Killer Stand-up comedian Wendy Bax.
Wendy is a 42 year old stay-at-home mom based in Portland, Oregon who had been told for years that she should take a shot at stand-up comedy.
In June of 2008 she attended the Christian Comedy Association Conference and it was strongly recommended by top comedians at the conference that she get her hands on the Killer Stand-up Comedy System.
In July 2008, she started working with my system. By April of 2009, Wendy began performing with a local comedy group in Portland called "TIME OUT! The Mother of All Comedy Shows". Her first performance with that group was only her fifth time on stage. (read more…)