Note: This story has been updated and contains an audio interview because Killer Stand-up comedian Gid Pool been featured in a "Your Life Calling With Jane Pauley" segment produced by AARP (video of the segment is provided below)!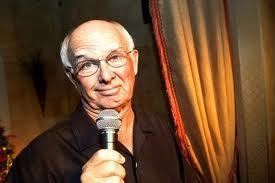 If you are at an age where you have ever wondered if you were too old to become a stand-up comedian, please allow me to introduce you to comedian Gid Pool.
Gid was 61 years old when he started his stand-up comedy career after taking a stand-up comedy class in March 2007.
Later that summer, Gid got his hands on the Killer Stand-up Comedy System.
Within six months, Gid was already booking comedy gigs and being asked to perform at local venues.
In 2009 he was one of the winners of the Branson Comedy Festival in Missouri.
How We Met
How did I finally meet Killer Stand-up comedian Gid Pool?
He requested private phone coaching in order to move to the next level. I had no prior contact with Gid before that. When I saw a video of his stand-up comedy, I was blown away.
And let me assure you, Gid has the potential to go far.
As a matter of fact, since this story was published…
Gid has been featured in the Wall Street Journal and because of that, he was featured in the "Your Life Calling With Jane Pauley" AARP segment on the TODAY Show (4+ million viewers) on May 31, 2012.
My First Audio Interview With Gid

Here is my interview with him (15 Minutes):
Video Of Comedian Gid Pool
I also have a YouTube video of Gid in action.
It was filmed at McCurdy's Comedy Theater in Sarasota, Florida in front of 85 audience members.
In this video, Gid averages over 22 seconds of laughter per minute (PAR Score 37)…
Gid informed me that the video below is from Oct 2008, just about a year after he started using my system — WOW!

https://youtu.be/URMBbQEtON0

It is also important to note that Gid has been using
Comedy Evaluator Pro
to improve his performances since he started using the Killer Stand-up methods and techniques.
The Bottom Line
I have said for years that stand-up comedy is NOT about age — it's about funny and being able to entertain audiences.
Funny can't hide. Well, now I have proof that age simply is NOT a factor when it comes to becoming a high impact stand-up comedian.
And from an entertainment perspective, I am very excited for Gid because I know that the largest untapped market on the planet for entertainers/entertainment is for the 50+ year old crowd.
Not only that…
Gid works clean, which even further broadens his potential stand-up comedy reach (and income potential).
So, if you think that you are too old to become a headliner level stand-up comedian quickly…
Don't ask me about it — put your dentures in and go ask Killer Stand-up comedian Gid Pool: